I recently acquired a Yaesu FT-891, a Signalink and a VARA HF license in the hopes that I could get Winlink working over HF radio. I'm no stranger to Winlink, but HF radio in general is fairly new to me. In my efforts, I reached out to the ham community to ask others about their equipment and settings.
My first attempt at a connection was a failure. I watched a few videos on doing Winlink over HF radio, but pretty much all the settings in my radio were factory default. My second attempt was successful. I managed to connect to a station 700 miles north of me and another 800 miles south of me, both on 20 Meter at about mid-day in the Arcadia, California area. I recorded a video (below) of the first successful transmission and then later put together a spreadsheet (below) of the radio settings for future reference. While I cannot guarantee this will work for you, I can say that my consults with several HF experts influenced these settings.
In case you're wondering about the antenna, I was using a Chameleon EMCOMM II mounted in a sloper configuration with the balun in a tree about 8 feet off the ground and the other end of the wire suspended from an MFJ pole about 31 feet in the air. The antenna was connected to an LDG Z-11 Pro Tuner. The radio, the tuner and the antenna were connected to a ground rod pushed down about a foot into the ground. The tuner got the SWR down to about 1.5-1.75 SWR on 20 meters.
Below are screenshots of how I configured Winlink. Note that I was not able to get CAT control to work, so I dialed frequencies in manually.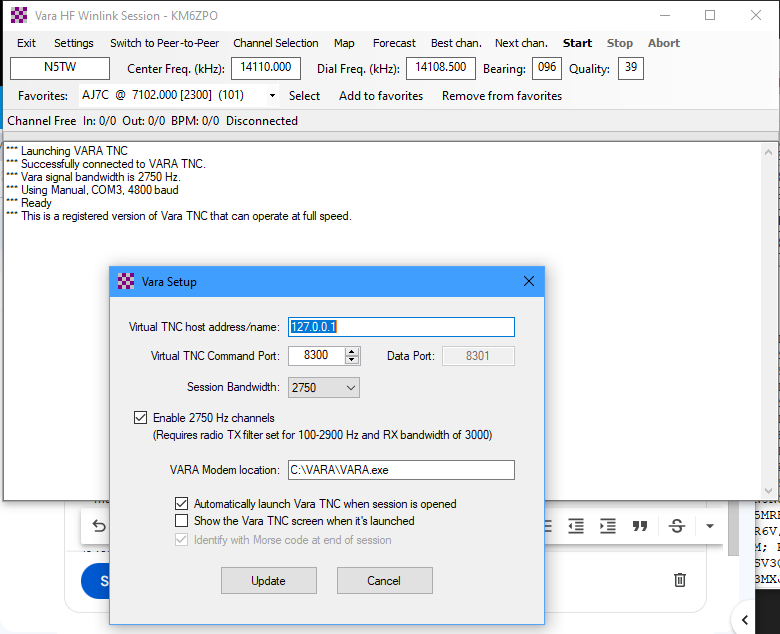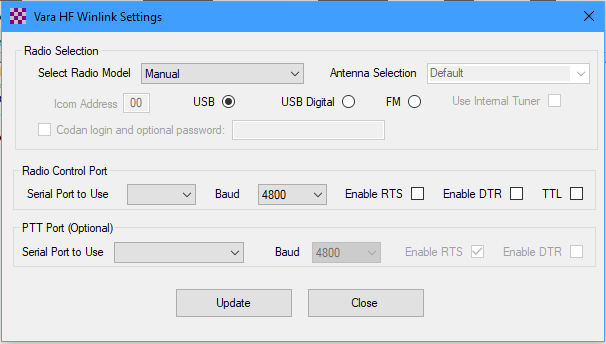 Below is a list of the menu settings that worked for me in my Yaesu FT-891:
| | | | | |
| --- | --- | --- | --- | --- |
| MENU # | DESCRIPTION | Available values | Defaut Setting | Current Setting |
| 01-01 | AGC FAST DELAY | 20-4000 (msec) | 300 | 300 |
| 01-02 | AGC MID DELAY | 20-4000 (msec) | 700 | 700 |
| 01-03 | AGC SLOW DELAY | 20-4000 (msec) | 3000 | 3000 |
| | | | | |
| 02-01 | LCD CONTRAST | 1-15 | 8 | 8 |
| 02-02 | DIMMER BACKLIT | 1-15 | 8 | 1 |
| 02-03 | DIMMER LCD | 1-15 | 8 | 8 |
| 02-04 | DIMMER TX/BUSY | 1-15 | 8 | 7 |
| 02-05 | PEAK HOLD | off/0.5/1.0/2.0 (sec) | OFF | OFF |
| 02-06 | ZIN LED | ENABLE/DISABLE | DISABLE | DISABLE |
| 02-07 | POP-UP MENU | UPPER/LOWER | LOWER | LOWER |
| | | | | |
| 03-01 | DVS RX OUT LVL | 1-100 | 50 | 50 |
| 03-02 | DVSTX OUT LVL | 1-100 | 50 | 50 |
| | | | | |
| 04-01 | KEYER TYPE | OFF/BUG/ELEKEY-A/ELEKEY-B/ELEKEY-Y/ACS | EKEJ=KEY-B | EKEJ=KEY-B |
| 04-02 | KEYER DOT/DASH | NOR/REV | NOR | NOR |
| 04-03 | CW WEIGHT | 2.5-4.5 | 3.0 | 3.0 |
| 04-04 | BEACON INTERVAL | OFF/1-240 (sec) 1 sec/step) 270-690 (sec) (30 sec/step) | 0FF | 0FF |
| 04-05 | NUMBER STYLE | 1290/AUNO/AUNT/A2NO/A2NT/12NO/12NT | 1290 | 1290 |
| 04-06 | CONTEST NUMBER | 0-9999 | 1 | 1 |
| 04-07 | CW MEMORY 1 | TEXT/MESSAGE | TEXT | TEXT |
| 04-08 | CW MEMORY 2 | TEXT/MESSAGE | TEXT | TEXT |
| 04-09 | CW MEMORY 3 | TEXT/MESSAGE | TEXT | TEXT |
| 04-10 | CW MEMORY 4 | TEXT/MESSAGE | TEXT | TEXT |
| 04-11 | CW MEMORY 5 | TEXT/MESSAGE | TEXT | TEXT |
| | | | | |
| 05-01 | NB WIDTH | 1/3/10 (msec) | 3 msec | 3 msec |
| 05-02 | NB REJECTION | 10/30/50 dB | 30dB | 30dB |
| 05-03 | NB LEVEL | 0-10 | 5 | 2 |
| 05-04 | BEEP LEVEL | 0-100 | 30 | 20 |
| 05-05 | RF/SQL VR | RF/SQL | RF | RF |
| 05-06 | CAT RATE | 4800/9600/19200/38400 | 4800 | 4800 |
| 05-07 | CAT TOT | 10/100/1000/3000 (msec) | 10msec | 100msec |
| 05-08 | CAT RTS | ENABLE/DISABLE | ENABLE | DISABLE |
| 05-09 | MEM GROUP | ENABLE/DISABLE | DISABLE | DISABLE |
| 05-10 | FM SETTINGS | ENABLE/DISABLE | DISABLE | DISABLE |
| 05-11 | REC SETTING | ENABLE/DISABLE | DISABLE | DISABLE |
| 05-12 | ATAS SETTING | ENABLE/DISABLE | DISABLE | DISABLE |
| 05-13 | QUICK SPL FREQ | -20(kHz) – 0 – 20 (kHz) | 5 kHz | 5 kHz |
| 05-14 | TX T0T | OFF/1-30 (min) | OFF | 5 |
| 05-15 | MIC SCAN | ENABLE/DISABLE | ENABLE | ENABLE |
| 05-16 | MIC SCAN RESUME | PAUSE/TIME | TIME | TIME |
| 05-17 | REF FREQ ADJ | -25 – 0 – 25 | 0 | 0 |
| 05-18 | CLAR SELECT | RX/TX/TRX | RX | RX |
| 05-19 | APO | OFF/1/2/4/6/8/10/12 (h) | OFF | 4h |
| 05-20 | FAN CONTROL | NORMAL/CONTEST | NORMAL | NORMAL |
| | | | | |
| 06-01 | AM LCUT FREQ | OFF/100 – 1000 (Hz) | OFF | OFF |
| 06-02 | AM LCUT SLOPE | 6/18 (dB/oct) | 6db/oct | 6db/oct |
| 06-03 | AM HCUT FREQ | 700 – 4000 (Hz)/ OFF | OFF | OFF |
| 06-04 | AM HCUT SLOPE | 6/18 (dB/oct) | 6db/oct | 6db/oct |
| 06-05 | AM MIC SELECT | MIC/REAR | MIC | MIC |
| 06-06 | AM OUT LEVEL | 0-100 | 50 | 50 |
| 06-07 | AM PTT SELECT | DAKY/RTS/DTR | DAKY | DAKY |
| | | | | |
| 07-01 | CW LCUT FREQ | OFF/100 – 1000 (Hz) | OFF | OFF |
| 07-02 | CW LCUT SLOPE | 6/18 (dB/oct) | 6db/oct | 6db/oct |
| 07-03 | CW HCUT FREQ | 700 – 4000 9Hz)/OFF | OFF | OFF |
| 07-04 | CW HCUT SLOPE | 6/18 (dB/oct) | 6db/oct | 6db/oct |
| 07-05 | CW OUT LEVEL | 0 – 100 | 50 | 50 |
| 07-06 | CW AUTO MODE | OFF/50M/ON | OFF | OFF |
| 07-07 | CW BFO | USB/LSB/AUTO | USB | USB |
| 07-08 | CW BK-IN TYPE | SEMI/FULL | SEMI | SEMI |
| 07-09 | CW BK-IN DELAY | 30 – 3000 (msec) | 200 msec | 200 msec |
| 07-10 | CW WAVE SHAPE | 2/4 (msec) | 4 msec | 4 msec |
| 07-11 | FREQ DISPLAY PITCH | FREQ/PITCH | PITCH | PITCH |
| 07-12 | PC KEYING | OFF/DAKY/RTS/DTR | OFF | OFF |
| 07-13 | QSK DELAY TIME | 15/20/25/30 (msec) | 15 mec | 15 mec |
| | | | | |
| 08-01 | DATA MODE | PSK/OTHER | PSK | OTHERS |
| 08-02 | PSK TONE | 1000/1500/2000 (Hz) | 1000Hz | 1000Hz |
| 08-03 | OTHER DISP | -3000 – 0 – 3000 (Hz) | 0Hz | 1500Hz |
| 08-04 | OTHER SHIFT | -3000 – 0 – 3000 (Hz) | 0Hz | 1500Hz |
| 08-05 | DATA LCUT FREQ | OFF/100 – 1000(Hz) | 300Hz | OFF |
| 08-06 | DATA LCUT SLOPE | 6/18 (dB/oct) | 18dB/oct | 18dB/oct |
| 08-07 | DATA HCUT FREQ | 700 – 4000 HzOFF | 3000 Hz | 2300 Hz |
| 08-08 | DATA HCUT SLOPE | 6/18 (dB/oct) | 18dB/oct | 18dB/oct |
| 08-09 | DATA IN SELECT | MIC/REAR | REAR | REAR |
| 08-10 | DATA PTT SELECT | DAKY/RTS/DTR | DAKY | DAKY |
| 08-11 | DATA OUT LEVEL | 0 – 100 | 50 | 10 |
| 08-12 | DATA BFO | USB/LSB | LSB | USB |
| | | | | |
| 09-01 | FM MIC SELECT | MIC/REAR | MIC | MIC |
| 09-02 | FM OUT LEVEL | 0 – 100 | 50 | 50 |
| 09-03 | PKT PTT SELECT | DAKY/RTS/DTR | DAKY | DAKY |
| 09-04 | RPT SHIFT 28 MHz | 0 – 1000 (kHz) | 100 kHz | 100 kHz |
| 09-05 | RPT SHIFT 50 MHz | 0 – 4000 (kHz) | 1000 kHz | 1000 kHz |
| 09-06 | DCS POLARITY | Tn-Rn/Tn-Riv/Tiv-Rn/Tiv-Riv | Tn-Rn | Tn-Rn |
| | | | | |
| 10-01 | RTTY LCUT FREQ | OFF/100 – 1000 (Hz) | 300Hz | 300Hz |
| 10-02 | RTTY LCUT SLOPE | 6/18 (dB/oct) | 18dB/oct | 18dB/oct |
| 10-03 | RTTY HCUT FREQ | 700 – 4000 (Hz)/ OFF | 3000Hz | 3000Hz |
| 10-04 | RTTY HCUT SLOPE | 6/18 (dB/oct) | 18dB/oct | 18dB/oct |
| 10-05 | RTTY SHIFT PORT | SHIFT/DTR/RTS | SHIFT | SHIFT |
| 10-06 | RTTY POLARITY-R | NOR/REV | NOR | NOR |
| 10-07 | RTTY POLARITY-T | NOR/REV | NOR | NOR |
| 10-08 | RTTY OUT LEVEL | 0 – 100 | 50 | 50 |
| 10-09 | RTTY SHIFT FREQ | 0/425/850 Hz | 170 Hz | 170 Hz |
| 10-10 | RTTY MARK FREQ | 1275/2125 Hz | 2125 Hz | 2125 Hz |
| 10-11 | RTTY BFO | USB/LSB | LSB | USB |
| | | | | |
| 11-01 | SSB LCUT FREQ | OFF/100 – 1000 (Hz) | 300 Hz | 100 Hz |
| 11-02 | SSB LCUT SLOPE | 6/18 (dB/oct) | 6dB/oct | 6dB/oct |
| 11-03 | SSB HCUT FREQ | 700 – 4000 (Hz)/ OFF | 3000 Hz | 2300 Hz |
| 11-04 | SSB HCUT SLOPE | 6/18 (dB/oct) | 6dB/oct | 6dB/oct |
| 11-05 | SSB MIC SELECT | MIC/REAR | MIC | MIC |
| 11-06 | SSB OUT LEVEL | 0 – 100 | 50 | 50 |
| 11-07 | SSB BFO | USB/LSB/AUTO | AUTO | AUTO |
| 11-08 | SSB PTT SELECT | DAKY/RTS/DTR | DAKY | DAKY |
| 11-09 | SSB TX BPF | 100-3000/100-2900/200-2800/300-2700/400-2600 | 300-2700 | 200-2800 |
| | | | | |
| 12-01 | APF WIDTH | NARROW/MEDIUM/WIDE | MEDIUM | WIDE |
| 12-02 | CONTOUR LEVEL | -40 – 0- 20 | -15 | -15 |
| 12-03 | CONTOUR WIDTH | 10-011 | 10 | 10 |
| 12-04 | IF NOTCH WIDTH | NARROW/WIDE | WIDE | WIDE |
| | | | | |
| 13-01 | SCP START CYCLE | OFF/3/5/10 (SEC) | OFF | OFF |
| 13-02 | SCP SPAN FREQ | 37.5/75/150/375/750 (kHz) | 750 kHz | 750 kHz |
| | | | | |
| 14-01 | QUICK DIAL | 50/100/500 (kHz) | 500 kHz | 500 kHz |
| 14-02 | SSB DIAL STEP | 2/5/10 (Hz) | 10 Hz | 10 Hz |
| 14-03 | AM DIAL STEP | 10/100 (Hz) | 10Hz | 10Hz |
| 14-04 | FM DIAL STEP | 10/100 (Hz) | 10Hz | 10Hz |
| 14-05 | DIAL STEP | 2/5/10 (Hz) | 5Hz | 5Hz |
| 14-06 | AM CH STEP | 2.5/5/9/10/12.5/25 (kHz) | 5kHz | 5kHz |
| 14-07 | FM CH STOP | 5/6.25/10/12.5/15/20/25 (kHz) | 5kHz | 5kHz |
| | | | | |
| 15-01 | EQ1 FREQ | OFF/100-700 | OFF | OFF |
| 15-02 | EQ1 LEVEL | -20 – 0 – 10 | 5 | 5 |
| 15-03 | EQ1 BWTH | 1 – 10 | 10 | 10 |
| 15-04 | EQ2 FREQ | OFF/700 – 1500 | OFF | OFF |
| 15-05 | EQ2 LEVEL | -20 – 0 – 10 | 5 | 5 |
| 15-06 | EQ2 BWTH | 1 – 10 | 10 | 10 |
| 15-07 | EQ3 FREQ | OFF/1500 – 3200 | OFF | OFF |
| 15-08 | EQ3 LEVEL | -20 – 0 – 10 | 5 | 5 |
| 15-09 | EQ3 BWTH | 1 – 10 | 10 | 10 |
| 15-10 | P-EQ1 FREQ | off/100 – 700 | 200 | 200 |
| 15-11 | P-EQ1 LEVEL | -20 – 0 – 10 | 0 | 0 |
| 15-12 | P-EQ1 BWTH | 1 – 10 | 2 | 2 |
| 15-13 | P-EQ2 FREQ | OFF/700 – 1500 | 800 | 800 |
| 15-14 | P-EQ2 LEVEL | -20 – 0 – 10 | 0 | 0 |
| 15-15 | P-EQ2 BWTH | 1 – 10 | 1 | 1 |
| 15-16 | P-EQ3 FREQ | OFF/1500 – 3200 | 2100 | 2100 |
| 15+17 | P-EQ3 LEVEL | -20 – 0 – 10 | 0 | 0 |
| 15-18 | P-EQ3 BWTH | 1 – 10 | 1 | 1 |
| | | | | |
| 16-01 | HF SSB PWR | 5 – 100 | 100 | 100 |
| 16-02 | HF AM PWR | 5 – 40 | 25 | 40 |
| 16-03 | HF PWR | 5 – 100 | 100 | 100 |
| 16-04 | 50M SSB PWR | 5 – 100 | 100 | 100 |
| 16-05 | 50M AM PWR | 5 – 40 | 25 | 40 |
| 16-06 | 50M PWR | 5 – 100 | 100 | 100 |
| 16-07 | SSB MIC GAIN | 0 – 100 | 50 | 50 |
| 16-08 | AM MIC GAIN | 0 – 100 | 50 | 50 |
| 16-09 | FM MIC GAIN | 0 – 100 | 50 | 50 |
| 16-10 | DATA MIC GAIN | 0 – 100 | 50 | 50 |
| 16-11 | SSB DATA GAIN | 0 – 100 | 50 | 50 |
| 16-12 | AM DATA GAIN | 0 – 100 | 50 | 50 |
| 16-13 | FM DATA GAIN | 0 – 100 | 50 | 50 |
| 16-14 | DATA DATA GAIN | 0 – 100 | 50 | 50 |
| 16-15 | TUNER SELECT | OFF/EXTERNAL/ATAS/LAMP | OFF | LAMP |
| 16-16 | VOX SELECT | MIC/DATA | MIC | MIC |
| 16-17 | VOX GAIN | 0 – 100 | 50 | 50 |
| 16-18 | VOX DELAY | 30 – 3000 (msec) | 500msec | 500msec |
| 16-19 | ANTI VOX GAIN | 0 – 100 | 50 | 50 |
| 16-20 | DATA VOX GAIN | 0 – 100 | 50 | 50 |
| 16-21 | DATA VOX DELAY | 30 – 3000 (msec) | 100msec | 30msec |
| 16-22 | ANTI DVOX GAIN | 0 – 100 | 0 | 0 |
| 16-23 | EMERGENCY FREQ | ENABLE/DISABLE | DISABLE | DISABLE |
| | | | | |
| 17-01 | RESET | ALL/DATA/FUNC | | |
| | | | | |
| 18-01 | MAIN VERSION | V01-09 | | V01-09 |
| 18-02 | DSP VERSION | V02-04 | | V02-04 |
| 18-03 | LCD VERSION | V01-01 | | V01-01 |