My wife Julie (KN6AOC) and I planned to do an overnight camping trip and activate the easiest of four summits on Catalina Island, W6/SC-329 – East Peak Benchmark. I've been to the island many times, most often brining my mountain bike but have never hiked it. I knew from my previous biking experiences that the trails on Catalina Island can be quite steep at times. The hike was no different.
We took the 6AM boat out of Long Beach. The first lesson learned was that we should have brought two bags each: one for valuables and one for the camping stuff. As soon as we got on the boat, the deck hands told us to put our bags in the storage area. So we ended up having to repack in record time. Fast forward a day in our story: we saw people rolling large suitcases out of the campground. What we learned from all of this is that if you're just going to Hermit Gulch, carry your day pack as your carry on and put everything else in a rolling suitcase.
Once on the island, we learned lesson #2: don't take the cab service . Instead, wait for the Garibaldi shuttle. Why? Because cab fare to the campground for two people with huge bags is $20 (including a 25% tip). The shuttle is only $2.00. But do note: if you find yourself needing a ride to the campground after 5PM, you may have to pay for that cab.
Once at the campground, we learned lesson #3: the camp host doesn't arrive until 8AM . Fortunately we didn't have long to wait. Also, since we had booked the site for the two days (the minimum), our name was already posted on the site post. So we really didn't have to wait for the camp host. We could have begun our setup and came back to let him know we were there.
We began our hike at 9:24 AM. We decided upon the easier route option going past the memorial. Lesson #4 is that it costs $10 per person to walk through the Wrigley Memorial . The hike to the summit took us 3 hours with just under 2 hours of actual walking and an hour of rest stops. We carried 3 liters of water each, our chairs, umbrellas, snacks and a SOTABEAMS tactical mini, an N9TAX roll up j-pole and two radios: a Yaesu FT-70 and a primary and a Yaesu FT-60 as a backup (always bring a backup!) On our way up, I made a couple digital contacts on the FT-70 and had a few conversations over the area repeaters. As others have noted, the PAPA system works well in this area as do most other SoCal area repeaters. I had no shortage of people to talk to.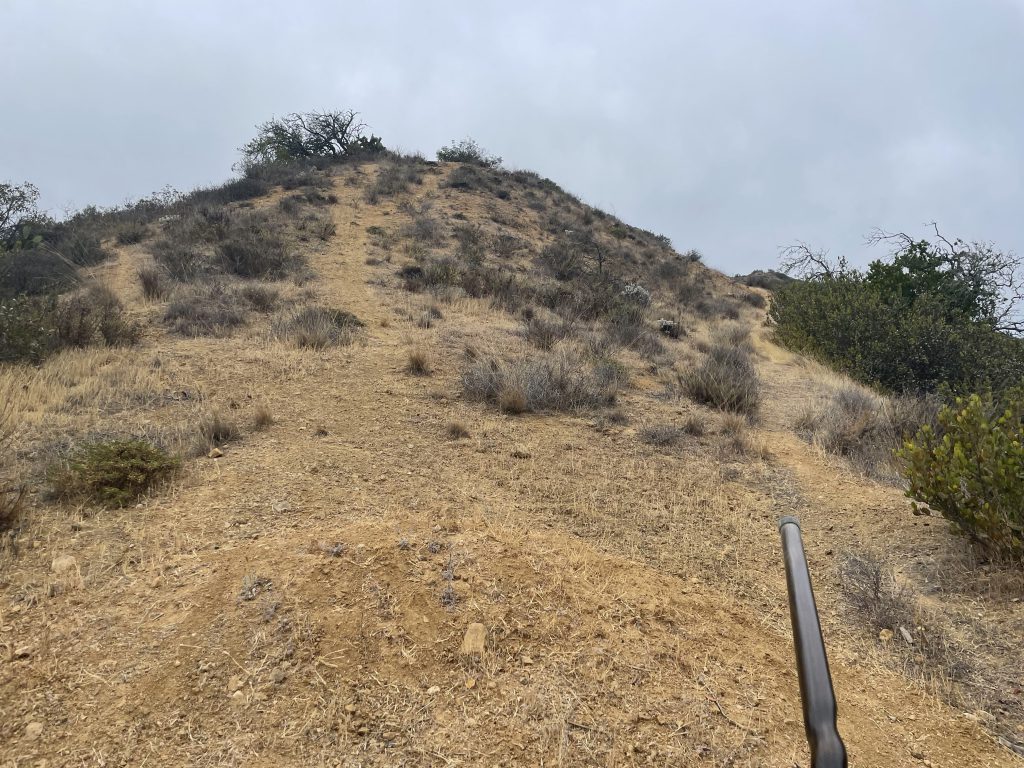 PRO TIP #1: The peak is fairly easy to find if you have the SOTA Goat app for iOS. Alltrails with a PRO subscription enables you to download the maps of the area and the route which I have uploaded there. If you have a Strava subscription, you can use my activity recording to navigate yourself. The actual peak has a marker and is surrounded by a couple antenna bases, some solar panels and a seismic detector on a tripod. The last incline is very steep and very loose – be careful and always watch out for rattle snakes behind the rocks and in the bushes. PRO TIP #2: Don't count on cell phone service working anywhere past the Wrigley Memorial!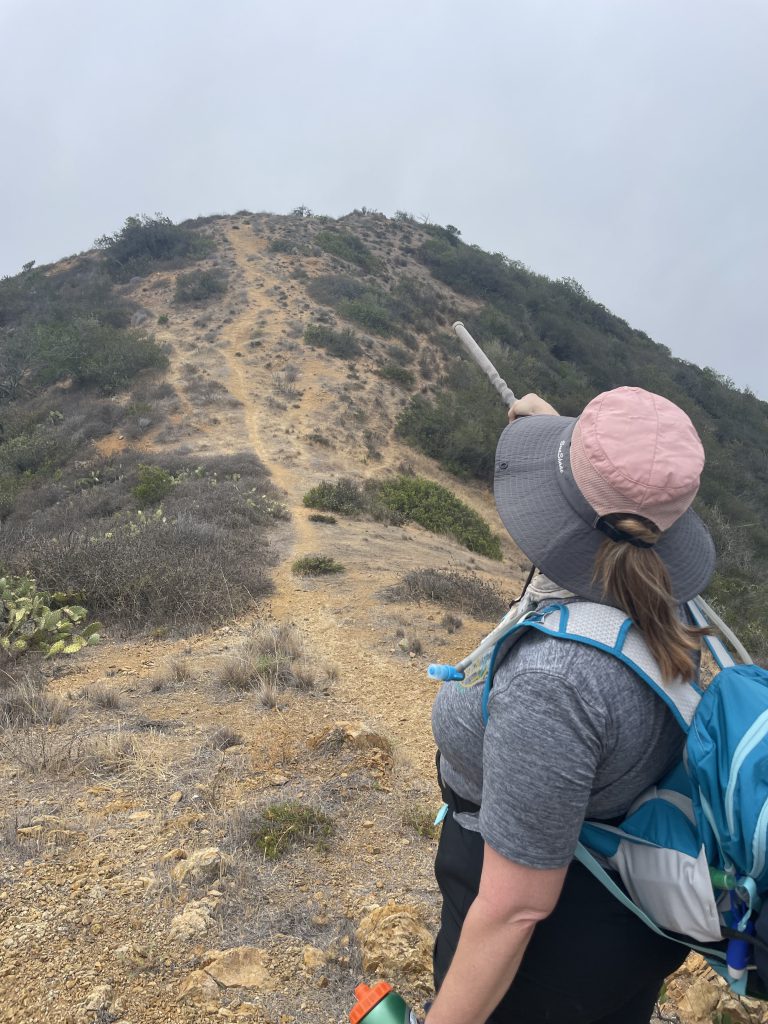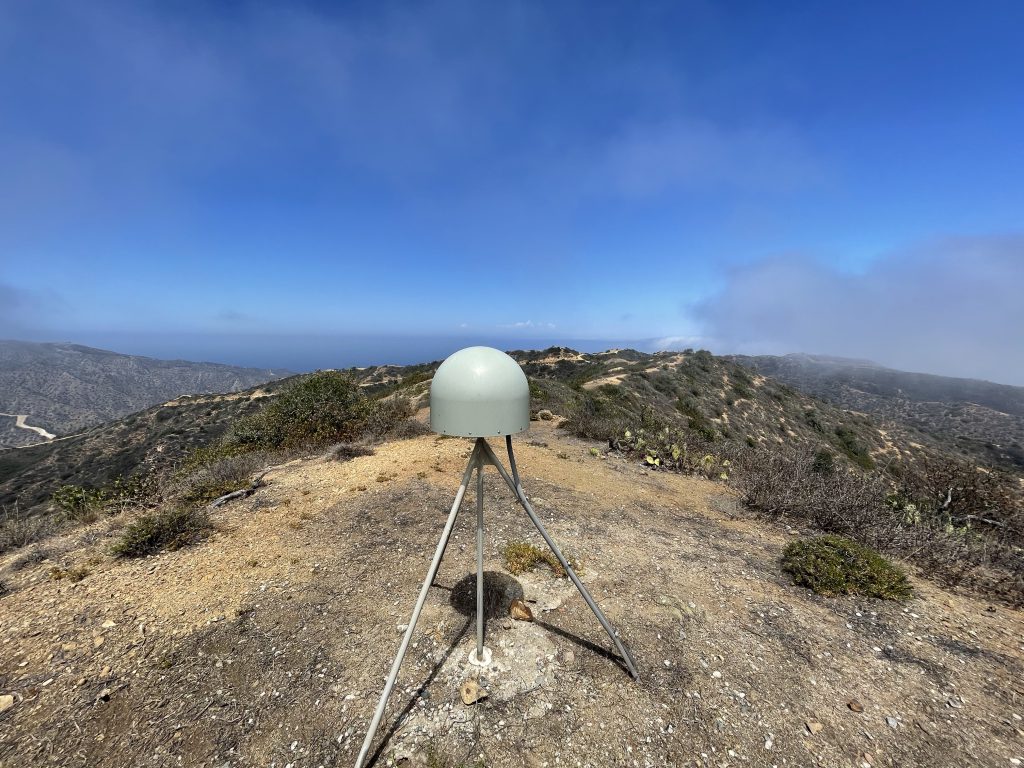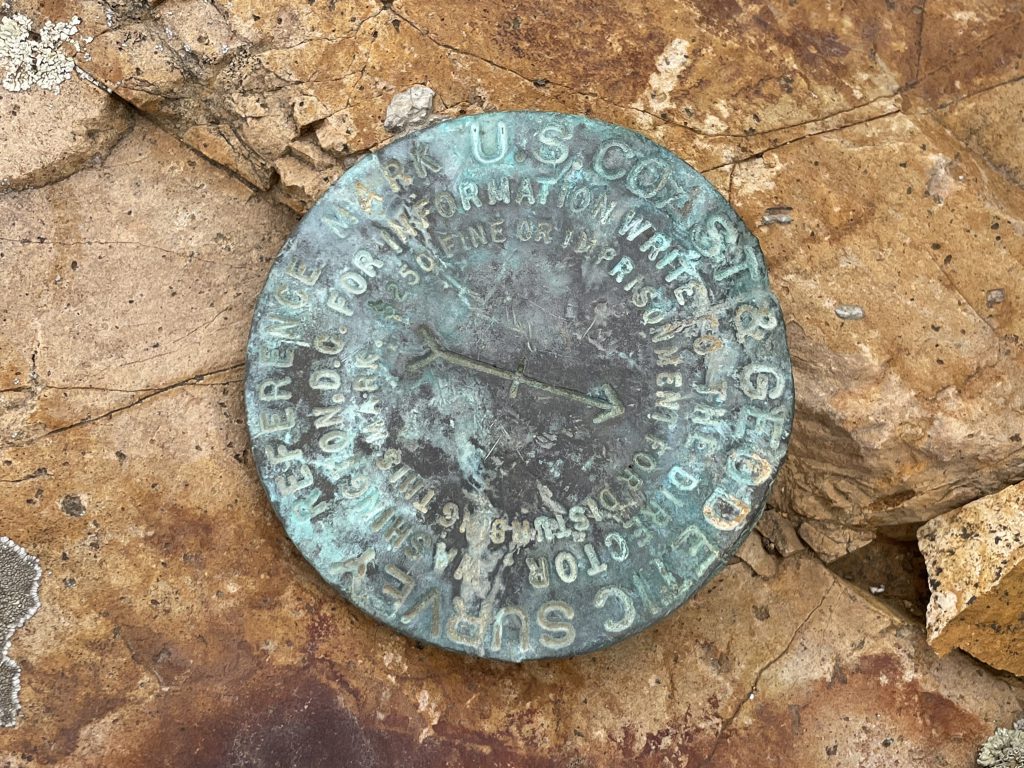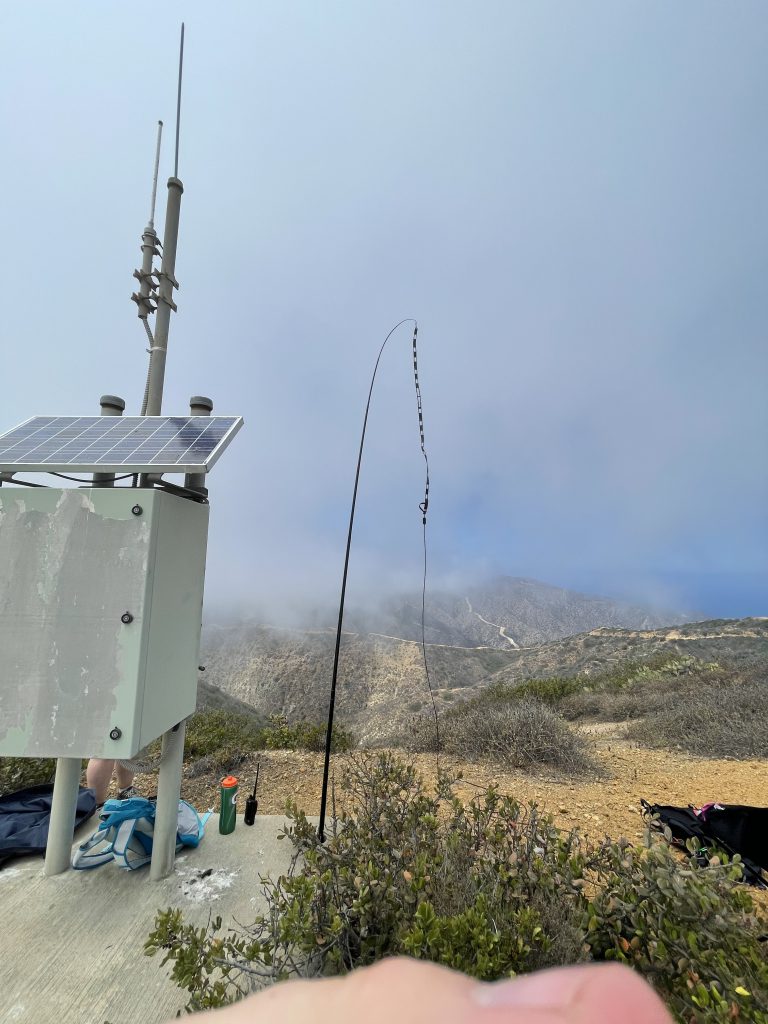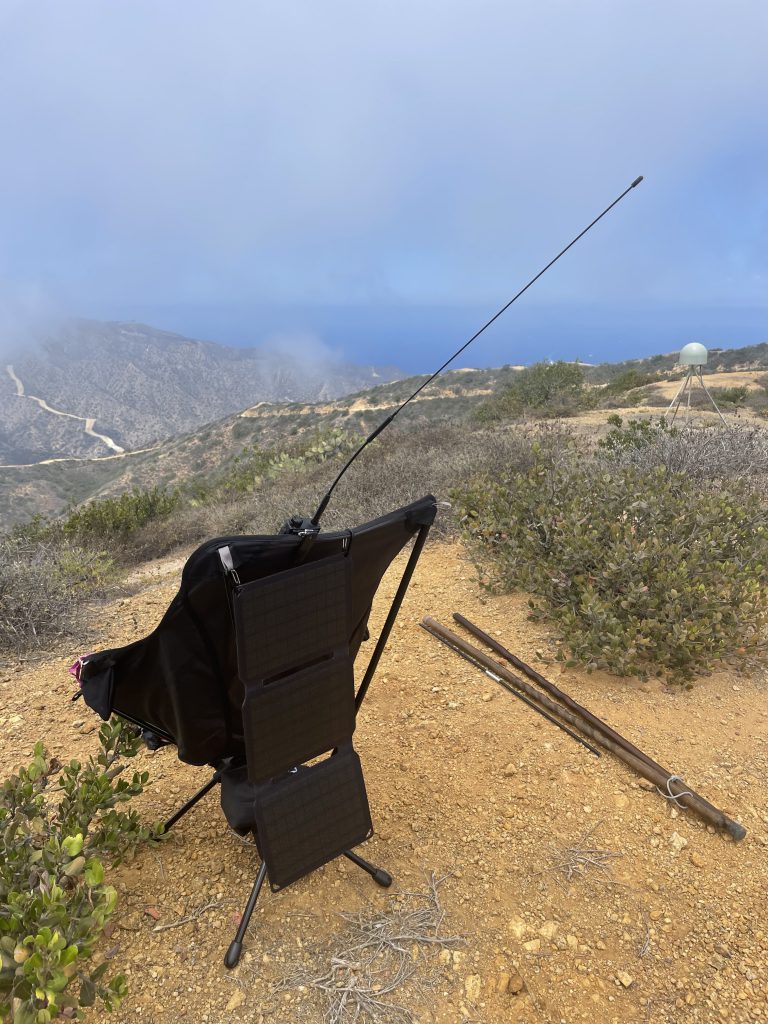 We reached the peak at about 12:20 and setup the chairs and antenna. Fortunately, during the planning phase of this trip I let people know the approximate time we would be there. PRO TIP #3: If you plan on doing any SOTA activations in the Southern California area, join the SoCal SOTA mailing list and announce your plans ahead of time! At about 12:30, Kent (N6WT) was the first to reach us. Kent was also doing a summit (W6/CC-036 – Santa Ynez Peak) and was listening for us. He had cell phone service at his summit and was able spot us. Within minutes we had contacts from all up and down the coast as far as 129 miles away including three confirmed summit to summit contacts. Most people reported clear 59 signal reports. I want to recognize Phil, KI6PMD, who was chasing several summit activators. On another frequency, Phil guided Kelly, AJ6KZ, in my direction to do one of my summit to summit contacts. Phil also provided some valuable navigation advice. We were considering taking a different route down. Phil checked the topo maps online and helped us make a wise decision to just go back the way we came.
As the clouds started breaking, we decided to wrap it up and start heading back. The weather up to that point had been overcast and about 70 degrees with a nice breeze cooling us down from both sides of the ridge. The further down we got into the canyon, the hotter it got of course. My wife ran out of water about 15 minutes before the end (she carried about 2 1/2 liters of water). I had a few ounces left (I had 3 liters). Lesson #5 was learned on the way down : make sure you clip your toe nails before doing a steep hike! Fortunately I didn't have far to go after realizing my toe nails were getting pulled by my socks because of the steep downward incline. The walk down took us about 2 1/2 hours with about 45 minutes of rest stops. PRO TIP #4: Bring a hiking stick. I'm glad I had my hiking stick because I slipped once on the way down and nearly fell on my behind! The stick saved me from that fall.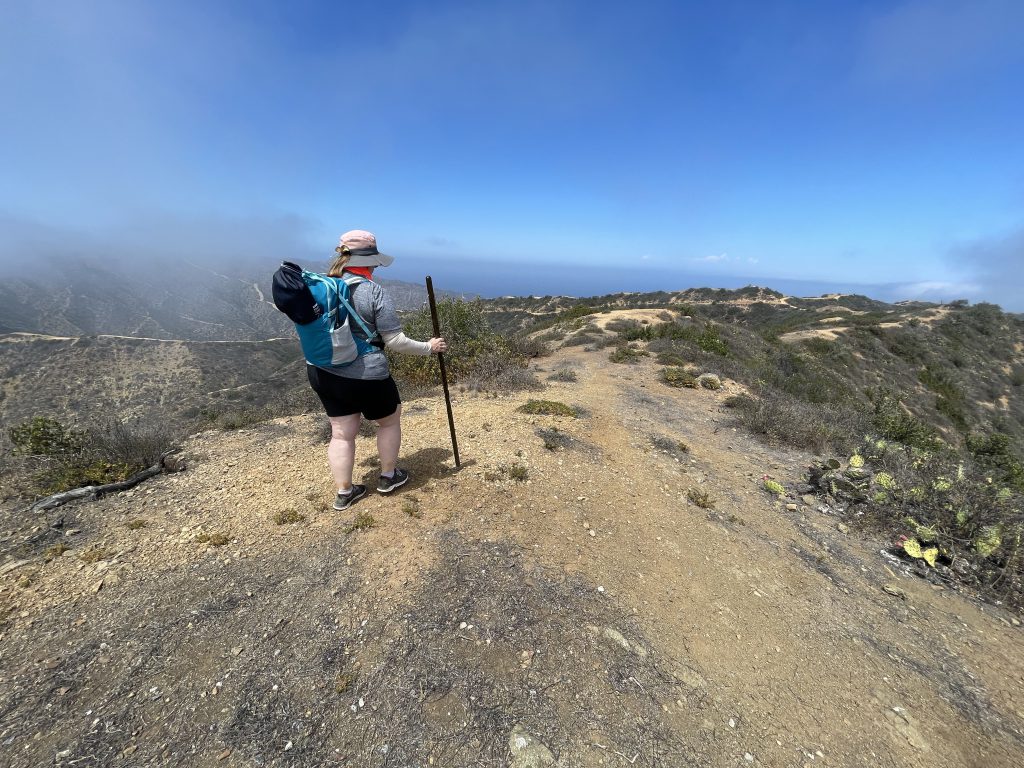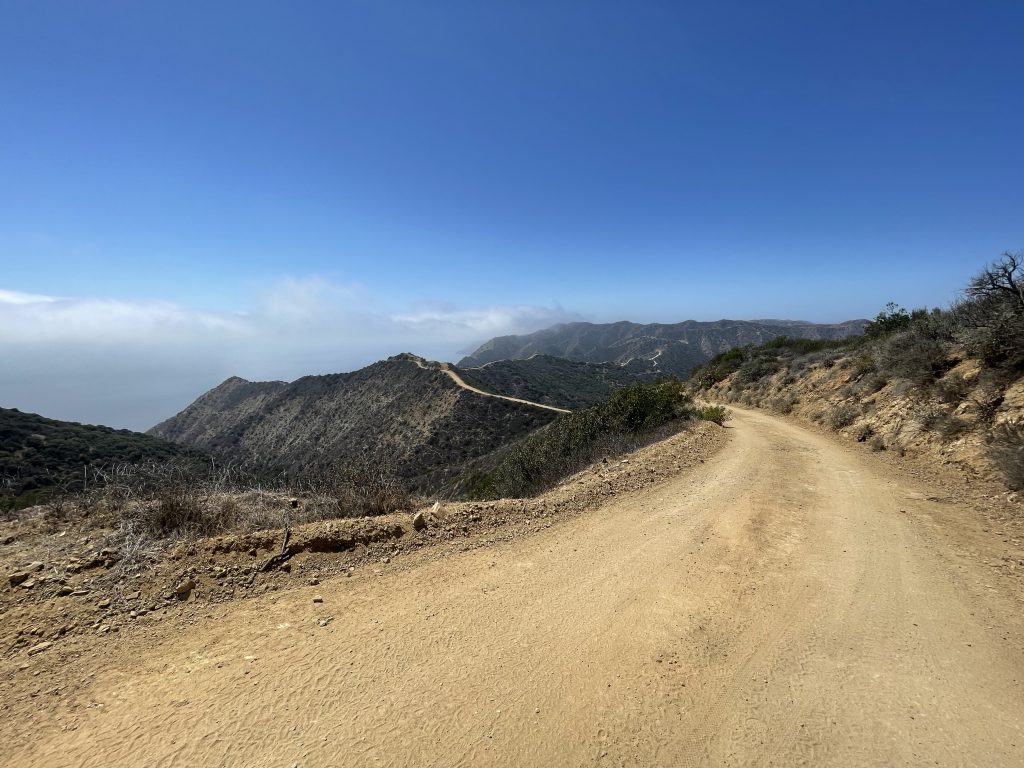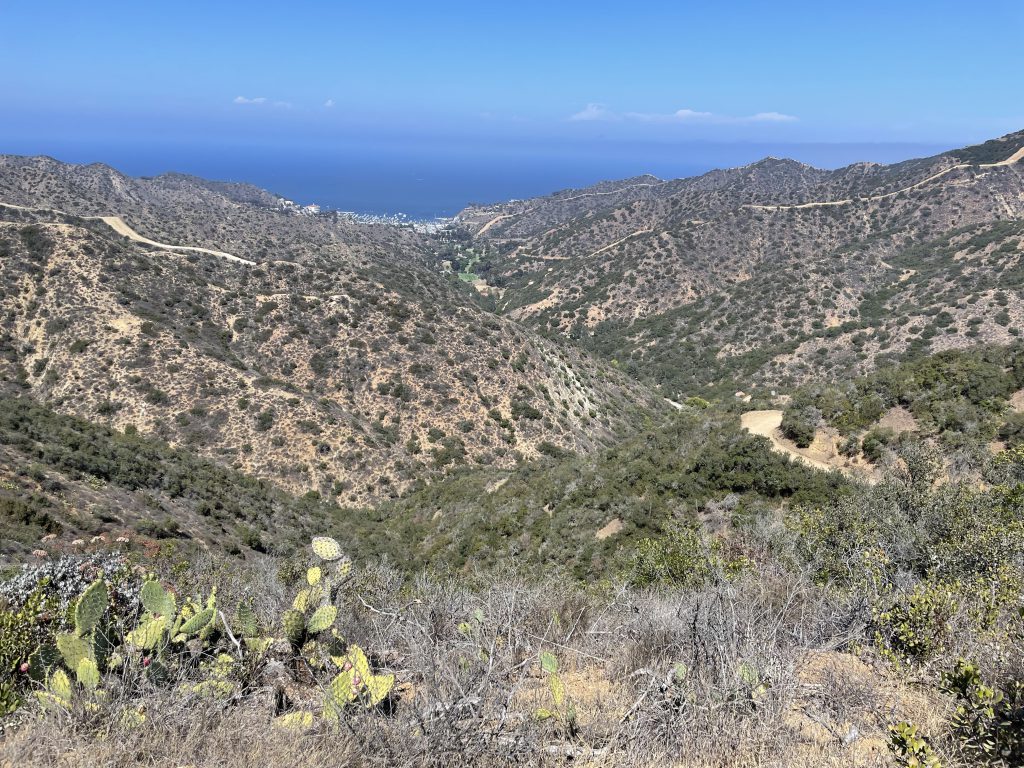 My QSO Log:

| CALL | CNTY | GRIDSQUARE | NAME | QTH | RST_RCVD | SOTA_REF |
| --- | --- | --- | --- | --- | --- | --- |
| N6WT | San Luis Obispo | DM04ck | Kent | Arroyo Grande | 55 | W6/CC-036 |
| W6MDE | San Bernardino | DM14 | Matthew | Yucaipa | 53 | |
| NT6E | Douglas | DM12it | Gary | La Jolla | 59 | |
| KI6PMD | Los Angeles | DM04 | Philip | Los Angleles | 59 | |
| K6QCB | San Bernardino | DM14 | Jeff | Rancho Cucamonga | 59 | |
| KN6DMO | Los Angeles | DM04 | Luis | Los Angeles | 59 | |
| N6AN | Los Angeles | DM04 | DAVID | Pasadena | 59 | W6/CT-225 |
| KI6SLA | Los Angeles | DM03 | Michael | Cerritos | 59 | |
| KG6MZS | Los Angeles | DM04 | Eric | Topanga | 59 | |
| KN6NLJ | ORANGE | DM13aq | SAM | HUNTINGTON BEACH | 59 | |
| AJ6KZ | Los Angeles | DM04 | KELLY | Encino | 59 | W6/CT-098 |
| N6JZT | Los Angeles | DM03 | Harold | Torrance | 59 | |
| AE1D | Rockingham | DM12jq | William | Point Loma | 53 | |
| K6UFA | Ventura | DM04 | Sergii | Simi Valley | 57 | |
And the map of contacts. Note: a couple in the Pacific Ocean didn't map correctly and several overlapped due to them all being in the same grid square.